"Falling Down" Single Review
Two recently deceased rappers/singers, XXXTentacion and Lil Peep, released a posthumous collaboration on Sept. 19. The newly released song is called, "Falling Down."  This is the first ever collaboration between the two artists.
ilovemakonnen and Lil Peep worked on and co-wrote an album together, but Lil peep passed before they were able to complete it.
One song that was left unfinished was called, "Sunlight On Your Skin". After hearing snipits of the song Lil peep was working on, rapper XXXTentacion reached out and said he wanted to be apart of the project.
"If I would have known he was so cool, I would have linked up with him sooner. And it's unfortunate, because it's like, yo, people die. That's when you, you know, your remorse makes you check them out," said XXXTentacion.
XXXTentacion was able to record some parts for the song but also passed before the song was finalized.  However, his family, knowing how passionate about the song he was, reached out to Makonnen and asked for XXXTentacion to still be apart of it.
Makonnen was thrilled to be able to co-write the song for the two recently  deceased rappers.
"When I heard X's recording, talking about my dear friend Peep, I could not wait any longer to share this," said Makonnen.
The fans of the two artists shared equal enthusiasm with Makonnen about the new song collaboration release .
"The day I heard it (the song) I couldn't stop listening to it. Both rappers were a really big part of my life, and I'm sad they both passed away, but I'm happy they are living on through their music," said sophomore Shawn Tillotson.
The music industry and the fans of the artists were devastated when the rappers had passed, especially so soon in their music careers. Their deaths left their fans craving more music.
"They were really great rappers, who could've done so many great things with music," said sophomore Maddy Condie
When their collaboration "Falling Down" was released, fans of both artists were quick to listen.
"I love the song because I'm just a big Lil Peep fan and I've known XXXTentacion for a few years. Seeing my two favorite artists, who are both lyrically talented, have a song together is a masterpiece." said junior Zach Thompson.
The new song these two artists have created has moved many people, despite the fact it was the first ever collaboration.
Both rappers were very talented and had a big influence in many of their fans lives and the music industry. Lil Peep and XXXTentacion's "Falling Down" assured the rappers fans that they will still live on through the music they made, and that they truly had a love for what they created.
About the Writer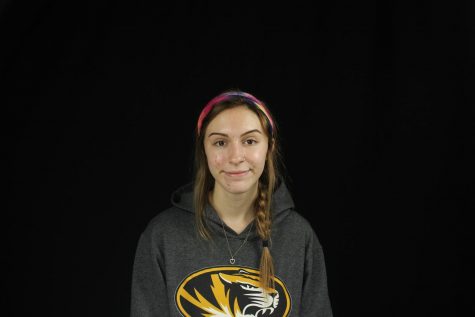 Hannah Sherfy, Photographer and Writer
This is my first year on the yearbook staff, and I am a photographer and writer. I really enjoy taking pictures and writing. I also really love music of...