Powder-Puff Persistance
Black, knee-high skirts. Pink, powderpuff shirts. Wigs and ponytails. The Powderpuff Fellas walked onto the field, Sept. 26, ready to perform. Coaches Ali McLaughlin, Emma Johnson, Grace Riley, Hannah Hulen, Jordan Droege, and Olivia Gibson lead the team out onto the turf and 18 boys walked out ready for action.
"I think the performance went really well," senior Nathan Muser said. "I was still just super excited about being able to do that. And I was sure that we were going to do pretty good." All but seven members of the Powderpuff Fellas didn't play sports.
"It was great!" senior Jack Crigler said. Crigler, one of the non-sports oriented seniors, wasn't discouraged or even fazed by the athletics. Choir member Blake Jenkins and Alex Fellows weren't either.
"Seeing all dudes who could do flips was like, oh man, I can't do that. It was kind of discouraging. But over time, it was really fun because like, everybody got to be involved," Jenkins said. 
The coaches taught stunts to Jenkins, and he flew with Muser, Sam Figgins, and Josh Kyle.
"Try it, see if you like it," Crigler said. "I do recommend as many people doing it as possible. There needs to be a whole lot more people." Crigler said. 
The team totalled 18, an  increase of 200% as of 2018 had only six cheerleaders. 
"Every boy seemed to give effort and tried to make things work," Mclaughlin said. "I loved it. I couldn't of wished for a better group of guys for my senior year."
Leave a Comment
About the Contributor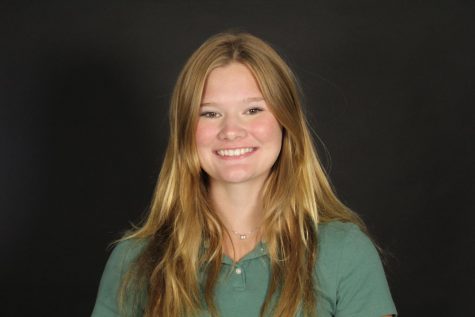 Ada Pipkins, Editor in Chief








I'm the Editor in Chief of the yearbook and I love to take photos! I love being a part of the publications staff and meeting new people...