Problematic Powder-Puff
All senior Molly Quick wanted was to get her blue mesh jersey to wear during her powderpuff game.
 "Everyone really loved having jerseys as a keepsake and they were a lot cuter and fun to wear to school," Quick said.
However, 2019  saw powderpuff t-shirts instead. T-shirts remained different colors for each grade like the jerseys were before: Freshman had black, sophomores yellow, juniors white and seniors blue. Each shirt cost $15, $5 less than  jerseys.
"We all didn't know that they were T-shirts and thought we paid $15 for jerseys," sophomore Paige Prade said.
Business teacher Amanda Graser helped organize teams and collect money for the shirts. One reason for the change was the cost could be difficult right around homecoming.
"They have powderpuff jersey, the cost of a dance ticket, homecoming outfit. The idea was to focus on what the message of homecoming is. It's about building school spirit and pride as Vikings," Graser said. 
In the past years the last names were printed on the back. It made it difficult for the teachers to organize them and get them to the players correctly.
"Girls circle the wrong grade, they don't write their name clearly or have someone else fill out their paper and their names are spelled incorrectly and trying to have a jersey reprinted in the short time there is between delivery and the game is very difficult," Graser said.
With the goal of powderpuff is to have powderpuff build school spirit and show school pride. Graser and other teachers decided to use this idea after seeing the success of another school using it. Athletic Director Sean Erwin saw it and only changed the name of the school on the shirts. 
"I liked the way the shirts looked but I wish we had jerseys because those are more fun," freshman Madalyn Everly said.
About the Photographer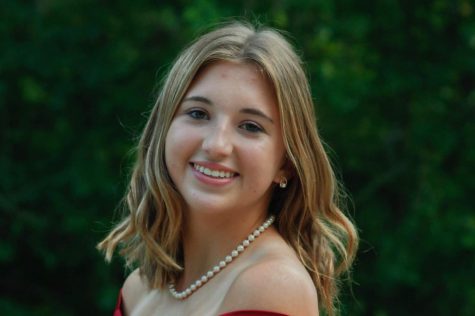 Anna Rausch, Lifestyle Editor
My name is Anna, and this will be my second year on staff. I will be the Lifestyle Editor for 2020-21 yearbook! Aside from yearbook, I play the mellophone...