"Hurts 2B Human" Album Review
Singer P!nk, whose story of personal and musical growth is well known in the music industry, released her new album "Hurts 2B Human." This is her eighth studio album that she describes as "sort of a pebble that rolls downhill and became this boulder [that] just kept steamrolling," during a Beats 1 interview. It consists ballads and bangers, and is 13 tracks in total. There are four singles: "Walk Me Home," "Hurts 2B Human," "Can We Pretend," and "Love Me Anyway."
The first single, "Walk Me Home," has a folky sound to it, because of the banjo, kick drum, chanting, and emphasis on the down beat. It is about running away with her significant other, away from not only her troubling thoughts, but also the status of her concerning community. She sings, "Walk me home in the dead if night / I can't be alone with all that's on my mind / So say you'll stay with me tonight / 'Cause there is so much wrong going on outside." The song fades out with the echo of a chant.
The next single is a slower song, introduced with acoustic guitar. Khalid is featured, and with his harmonies come electronic beats. This song discusses, obviously, the ailments that come along with being human. The pair compare living to walking on broken glass and a car crash. However, regardless of the pain of being alive, when they did not choose to be, they have each other to suffer with which to suffer through. P!nk sings, "God, it hurts to be human / Without you I'd be losing / And someday, we'll face the music / God, it hurts to be human." The song ends with a beautiful harmony and the two restating the overarching theme of it hurting to be human.
Next is "Can We Pretend," featuring Cash Cash. It starts out with bright and hopeful synth, and the beat is truly EDM. It pushes forward fast, with a prominent base on every beat. She sings over this about pretending that her reality is different than what it is, using wit to get her point across. "Can we pretend / That we both like the president? / Can I pretend that I really like your shoes? / H*ll, yeah / Can we pretend / 'Cause, honestly, reality, it bores me."
The last single is "Love Me Anyway." This track features Chris Stapleton. It is a ballad, opening with P!nk singing over emotional piano. She bears her emotions in this track, asking her significant other if he can love her despite her scars. Stapleton enters in the second verse, adding beautiful and moving harmonies and ad libs. His rough, raspy voice is a nice contrast to P!nk's voice.
About the Writer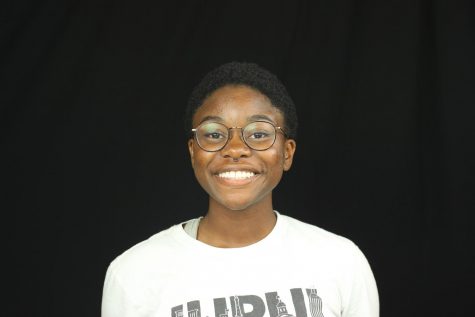 Camryn Daniels, Photographer
Hello! I am a senior, and a photographer in yearbook. I joined yearbook because when I took photojournalism, I really enjoyed taking sports photos. I'm...