"it's not u it's me" Single Review
At only 20 years old, Jersey born Bea Miller has made an impressive career for herself. She kicked off her place in the music industry when she was 13. She came in ninth place on the talent show "The X Factor" in its second season. From then, she landed herself a record deal with Hollywood Records, and started making her own music. She recently released her first single of 2019, "it's not u it's me" ft. 6LACK, March 1.
Miller sings, "It's not you, it's me (It's me) / I'm the only one I need (Ooh-ooh) / It's not you, baby (Baby) / 'Cause I'm leaving you for me (Ooh-ooh) / I don't want you blaming yourself / It's bad for your health" in the chorus. Basically, Miller makes it apparent to her significant other that she is what's causing the downfall of the relationship. She tells him not to blame himself because it's bad for his mental health.
In a way, her vocals sound sarcastic, but the message is genuine and open. It's a different approach for the typical break up song. She takes full responsibility for the relationship's difficulties, and hints on how she needs to take time away for self care.
It's music isn't overly complicated and really gives way for the duo to shine through. 6LACK makes his debut towards the end of the song. His smooth and unique vocals fit with the whole vibe of the record.
This catchy and straightforward track was the perfect way for Miller to kick of her 2019. It's energy is addictive.
About the Writer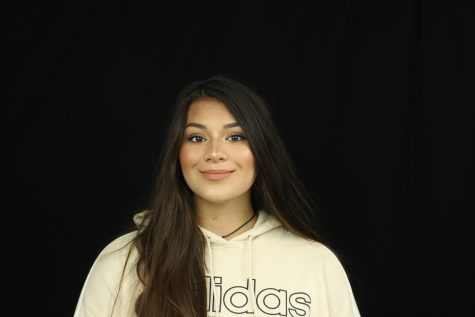 Luciana Mach, Web Editor
My name is Luci, and I joined yearbook because I'm passionate about journalism. By joining this class, I've learned that writing web stories and doing...