"Social Cues" Album Review
On April 19 Cage the Elephant released their newest album "Social Cues". With a total of 13 songs this album covers much ground of styles and tempos. While some songs stick to the bands original alternative rock sound there are a few new sounds throughout this album.
In late January 2019 Cage the Elephant released "Ready to Let Go" originally posted as a single. However, there was such a large and positive reaction that they added it onto the album. A few months later Cage the Elephant released Night Running ft. Beck. The upbeat song with a reggae feel left fans inpatient for the release of the new album.
According to reddit.com "Tokyo Smoke" and "Social Cues" are the most popular songs on the album. "Tokyo Smoke" leads with an upbeat intro that includes heavy bass and electric guitar. While "Social Cues" starts with fun piano sounds and drums, and "Social Cues" leads with a similar intro the lyrics talk about the struggles the band faces with being celebrities. In "Tokyo Smoke" the lyrics "My public smile. My double face. Half in the light. Half in the shade. Need some fresh air. No place tonight." listeners can clearly see the struggles the band has being in the light, but not wanting to quit. "Social Cues" gives off the same vibe with lyrics "I think it's strange when people say, you're the next big thing, you'll never fade."
"Goodbye" and  "Love's the Only Way" are slower songs that actually represent the hurt lead singer, Matt Shultz, is going through due to his recent divorce with, now ex-wife, Juliette Buchs. In "Love's the Only Way" the introduction starts with a medley of beautiful string instruments. Afterwards, Shultz begins to sing in a soft peaceful voice. Listeners were quite surprised by this sound but definitely not mad. The song has a beautiful lullaby feel to it, one that anyone who has gone through heartbreak will understand. In the song "Goodbye" there is a more upbeat and angry feeling to it than a painful one. With heavy crescendos of electric guitar and drums listeners can feel the anger the band is feeling. Along with the disbelief that the divorce actually happened.
Their song "Black Madonna" is another slower song that starts with tambourine and transitions into the other instruments. This song talks about how Shultz thinks his ex-wife cheated on him. Madonna is an 80's female icon that did whatever she wanted and no one could hold her back. Cage the Elephant compares Shultz's wife as wanting to be free with lyrics saying "call me when you're ready to be real" and "You say that you're at home, alone right now but in the background there's a muffled laugh." This implies the fact that Shultz thinks his wife is cheated on him. The slow yet upbeat music expresses the confusion felt between the couple of not knowing what to do.
"Dance Dance" and "House of Glass" have a psychedelic rock feel to them. With heavy electric guitar and a catchy drum beat. Cage the Elephant talks about how they're different from basic bands and people in general. At the beginning of Dance Dance they say "I was born on the wrong side of the train tracks" and they talk about how life is an illusion.
About the Writer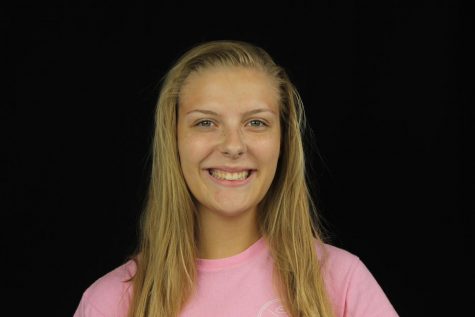 Emily Nelson, Photographer
I am one of the yearbook photographers. I am a senior and joined yearbook for my love of photography.