"Anger Management" Album Review
Rapper/Rockstar Rico Nasty and producer Kenny Beats released their new album at midnight, April 25. Because it was a collaboration with Kenny Beats, listeners were prepared for the subs in their cars to blow out. Her voice on the album is angrier than ever, hence the title, "Anger Management". It is nine tracks, with no singles, and features Baauer, Earthgang, and Splurge. None of the songs exceed three minutes.
The first song is "Cold". It starts with a relatively calm voice over of a computer voice asking the listener why they aren't tired of the same, old thing, every day, minute, and second. Rico abruptly screams her producer's name, as she famously does, and immediately goes in. Her flow is different from anything I've heard from her, and the furthest thing from her early albums. She is spitting the entire two minutes; I wouldn't be surprised if she passed out after finishing. She raps about how no other woman is as cold as she is. I agree.
In the middle of the album, there is a skit titled "Nasty World" in which a game show host asks if the listener think they have what it takes to get nasty, and promptly answers the question themselves, saying "your mother has what it takes".
The production on the following track, "Relative", is different from the other tracks. It takes a more soulful approach, with a woman vocalizing in the background. Lowkey, the beginning sounds like 2Pac's "I Ain't Mad At Cha". A record scratches, and Rico enters, but the vocalizing continues under a drum set sound and heavy 808s. Rico's voice on this song is relatively reserved – she isn't screaming like she is in "Cold", and it's very fitting for the production. The song concludes with a man talking about daydreaming.
The last track is "Again". Tacobella snapped on this track. She sings over pleasing synth chords and syncopated drums about how she can relax and stop worrying about money problems. "I just woke up to a check / Let me take a deep breath / I ain't going broke again / I did it all on my own". The song ends with a woman who sounds suspiciously like Julie Andrews telling her if there's anything she needs, to come to her and she would be happy to help.
In conclusion, I love Rico Nasty even though she makes my road rage unnecessarily aggressive.
About the Writer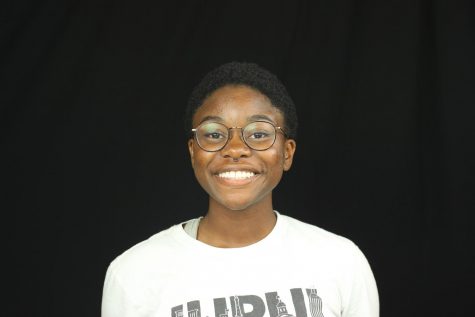 Camryn Daniels, Photographer
Hello! I am a senior, and a photographer in yearbook. I joined yearbook because when I took photojournalism, I really enjoyed taking sports photos. I'm...