"WHEN WE ALL FALL ASLEEP WHERE DO WE GO" Album Review
       March 29 2019, Billie Eilish released her second album at the young age of seventeen, WHEN WE ALL FALL ASLEEP, WHERE DO WE GO?. Her brother, FINNEAS, helped produce the album and can be heard in the background of many of the songs on the album. The album includes songs in the alternative genre, but they stray from the lighthearted style heard on Eilish's debut album, Don't Smile at Me.
      Tracks, "bad guy," "wish you were gay," "when the party's over," and "bury a friend," are the most popular on the album, including dark topics and strange melodies/beats.
"when the party's over," was released as a single before the album was released to the public. The song features resonating vocals and a delicate piano line. The harmonies in the vocals brings out Eilish's honest and powerful lyrics discussing the burden of feeling abandoned by someone you love.
"you should see me in a crown," is another single released before the album, featuring a dark melody and lyrics. Eilish discusses her desire to have power over someone who has treated her badly. Although the song is different from most of the songs on the album, it has a very catchy melody.
"bury a friend," received the most attention on the album after Eilish released a haunting music video. The song has an upbeat melody that seems to be taken straight out of a horror film, featuring lyrics about Eilish's frightening dreams and sleep paralysis she's experienced throughout her life.
Songs, "i love you," "listen before i go," "ilomilo," and "8," are the songs that stuck out on the album, including soft and quiet music and lyrics about lost love and disappointment. Although all of these songs include related lyrics, each of their melodies stand out and are unique to the others on the album.
About the Writer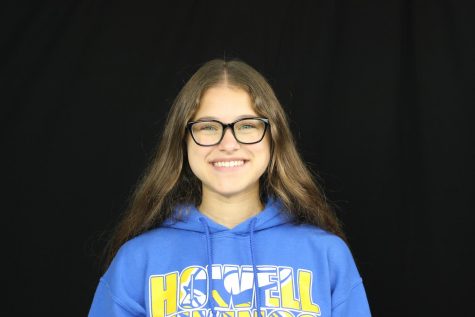 Ashley Foster, Writer
Hi, I'm a senior at Francis Howell High School! This is my first year on yearbook staff, and I'm interested in pursuing journalism as a possible career...