"Harry Styles" Album Review
Former One Direction member, Harry Styles, released his first solo album, Harry Styles, May 12, 2017. Almost three years later, it has proven to be iconic and timeless. This self-titled work of art is ten tracks long, consisting of a mixture of soft and power ballads, as well as traditional and nontraditional pop tunes.
The album begins with "Meet Me in the Hallway," in which hazy vocals sing over passionate acoustic guitar. As the song progresses, the intensity increases with Styles' volume. However, though it is clear he is singing with strength, it is echoey and as if he is miles away. Toward the end of the song, it reverts back to its original dreamlike state.
Next on the album is the single, "Sign of the Times." Familiar chords introduce the listener to the song, followed by the distorted sound of wind blowing. The opening line, "just stop your crying / it's the sign of the times," mixed with the underlying music sets the tone of obscure melancholy. Styles' use of falsetto entrances the audience with its storytelling abilities, and leaves them blindsided when the chorus, which is the antithesis to this pre-chorus, enters. The tension continues to build until the end of the song with a sturdy consonant chord and lingering piano. The song is almost six minutes and is a real trip.
A few songs later is Kiwi, sounding different than anything else we've heard from Styles. The tune is more rock than pop, and is incredibly suggestive in the most blunt way. He opens the song with a description of her personality and body, singing how all the boys are into her. He then goes into the chorus with a surprising, "I think she said 'I'm having your baby, it's none of your business.'" The song is upbeat and fast paced, synonymous to the theme of the song, from start to finish.
The next two songs are upbeat as well, making the closing song, From the Dining Table, a sharp change in pace. This album ends on a somber note, literally. From the Dining Table is a sad song about a man missing a woman, being impressively lonely, and trying to fill the void of her with girls with similar, but not similar enough features. The entire song is sad lyrics, but here are the ones that summarize the best: "I saw your friend that you know from work / He said you feel just fine / I see you gave him my old T-shirt / More of what was once mine." Are you crying? Because I am.
About the Writer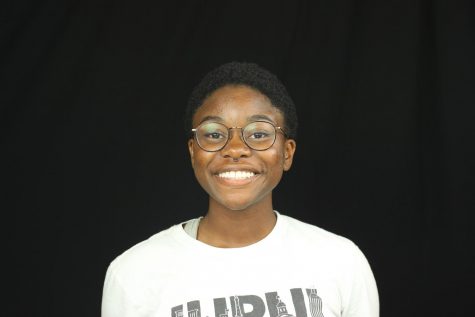 Camryn Daniels, Photographer
Hello! I am a senior, and a photographer in yearbook. I joined yearbook because when I took photojournalism, I really enjoyed taking sports photos. I'm...