"Free Spirit" Album Review
What we've been all waiting for has finally come to life. The young R&B singer, Khalid, just released his sophomore album Free Spirit this spring, April 5, 2019. To keep the momentum of it's build-up going, Khalid strategically released songs at intervals until the final 17-song reveal. He utilized a unique method of exposure to his fans.The global superstar celebrated the release with a special one-night fan event with a companion short film and an early listen of the album in theaters all over the country.
His last album, American Teen, was a sweet, coming-of-age album, and with Free Spirit, he takes a different approach.To break it down, the album's leading single "Talk" was released quite some time before to give listeners a taste of what was to come. The track was made with a very popular music production duo. The geniuses behind the music in "Talk" is Disclosure, and with Khalid's vocals, it's stunning. The beat is lively, fresh, and a little groovy. Khalid hits a variety of satisfying notes as he sings, "Can't we just talk? / Can't get what we want without knowin' / Can't we just talk? / Figure out where we're goin," in the chorus.
The second pre-release was "My Bad". The song is similar to the theme in "Talk". It's about miscommunication between Khalid and his significant other, but in this case, it's through text and not face-to-face. It's sound relies heavily on the tune of a guitar with a laid back beat.
The third pre-release was "Self". Khalid intended to make the song about his personal health. He alludes to the man that lives inside of him and how he's crying out for help, but he can't save him because he can't even save himself. The song displays a really deep message, not only to Khalid but to his fans as well, and the unique music adds to that whole vibe. Khalid does a very sufficient job in making his listeners personally feel what he does in his songs.
The last pre-release before the debut was "Don't Pretend" feat. SAFE. The song is about how Khalid yearns for a love interest. It's music is mellow and acoustic-based much like "My Bad", and Khalid takes the chorus in higher octaves to create harmony with the sound.
"Intro" conveys how Khalid is confused about what's on his girl's mind. "Alive" and "Heaven" explores the notion of self doubt. "Outta My Head" featuring John Mayer portrays passionate feelings for a girl. "Bad Luck" discusses troubles from unfortunate relationships, and "Hundred" is about staying positive in tough situations.
The album also features tracks that made an appearance on his EP Suncity that was dropped last October. "Better" and "Saturday Nights" are the songs that won the spots on the record.
Overall, the album is the work of a wiser Khalid compared to his American Teen days. He gives a more of a grown-up feel from his lyrics and sound, and it's spectacular. Taking a look inside and analyzing his emotions and feelings, he is an honest lyricist who opens up to his audience, and it's going to take him far in the industry. The album has paved new avenues for Khalid to pursue and build on his career for the future to come. All in all, Free Spirit is a sophisticated, and heartfelt collection of songs that will surely keep you coming back for more.
About the Writer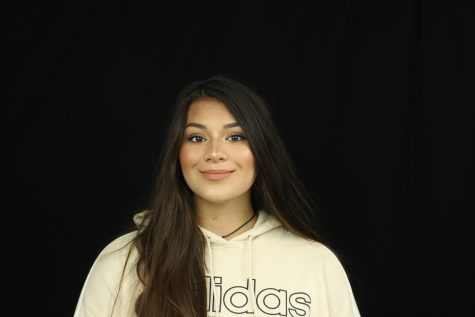 Luciana Mach, Web Editor
My name is Luci, and I joined yearbook because I'm passionate about journalism. By joining this class, I've learned that writing web stories and doing...