"Thank U, Next" Album Review
Not six months after her Grammy Award winning album Sweetener, Ariana Grande released yet another full length album, February 8th. Thank U, Next is Grande's fifth album, and the first to break multiple records. These records include, but are not limited to: most streams in one week for a woman in the U.S.; most streams in one week in the U.K.; most plays on Vevo and Youtube in 24 hours; fastest to rise to 100 million views. Grande, herself, has gained the title of first and only artist in spotify history to occupy the top three spots for fastest songs to reach 100 million streams, as well as only the second act on Billboard's Hot 100 to occupy the top three positions, tieing with The Beatles, who achieved this feat in 1964.
The entire album is 12 tracks, and was made within a short span of time. The first track is titled "Imagine", and was released as a single, December 14th, 2018. This ballad is romantic and reminiscent, showcasing Grande's unhealed emotional wounds, despite the theme of the album as a whole. On Twitter, she compared the two as "'thank u, next = acceptance… imagine = denial." Grande also responded to a fan, describing what the song is about as "a simple, beautiful love that is now (and forever) unattainable."
Following "Imagine" is "Needy", a short and long awaited ballad. Grande teased this track months before its release, and its unforgettable chorus and the simple and light piano carrying the tune intrigued her fans immediately. The song is about exactly what you would assume – being needy. The chorus consists of "I can be needy / Way too d*mn needy". She continues with "I admit that I'm a lil' messed up / But I can hide it when I'm all dressed up / I'm obsessive and I love too hard / Good at overthinkin' with my heart," referencing the trauma she has faced recently. This track lacks a hook, keeping its duration under 3 minutes and leaving listeners wanting more. Grande's solution to this was to simply run it back and listen to it again.
Next is a more traditional pop song entitled "NASA". Grande has not been shy about her fascination with outerspace, to which she alludes in this clever track. It begins with the iconic drag queen, activist, and actress, Shangela, quoting astronaut, Neil Armstrong, with "This is one small step for woman, one giant leap for woman kind." Grande begins to sing about needing space from her signifiant other over dreamy background vocals and funky base. The opening line sets the tone for the track – "I'd rather be alone tonight / You can say 'I love you' through the phone tonight." She follows with "I can't really miss you if I'm with you / And when I miss you it'll change the way I kiss you / Baby, you know time apart is beneficial / It's like I'm the universe and you'll be N.A.S.A" With this begins the chorus that states she needs space. This song is riddled with metaphors, yet is incredibly straightforward.
The fourth track is "Bloodline". This track also includes an opening voice over, but this time the speaker is Grande's grandmother saying "Because I'm trying to do the best I can, and they can't find something to satisfy me," in a heavy New York accent. Bloodline is about sex with no strings attatched; Grande does not want her significant other to remain in her bloodline, or in other words, she is not looking for commitment. She sings "Don't want you in my bloodline, yeah / Just wanna have a good time, yeah" and "Love me, thank you, leave me / Put it down, then it's time to go." The beat is brass heavy, giving the song a warm, confident mood.
The next track is "Fake Smile", seemingly the one to which most listeners can relate. It begins with a sample of Wendy Rene's 1964 single, "After Laughter." Grande then sets the scene of yet another bustling party that she wants to leave. She reiterates that she is grateful for the life she lives, but she is tired because of all that she has endured recently. To enter the chorus, she sings "I can't fake another smile / I can't fake like I'm alright / I won't say I'm feeling fine / After what I've been through, I can't lie". Fingersnaps and 808s lay over the Rene's sample, giving it a unique and anachronistic sound.
Toward the end of the album is "Ghostin", an incredibly emotional and vulnerable ballad about Grande's past significant others. On Twitter, she described it as "feeling badly for the person you're with bc you love somebody else. feeling badly bc he can tell he can't compare…. and how I should be ghosting him." She sings somber lyrics like "You've been so understanding, you've been so good / And I'm putting you through more than one ever should" and "I know that it breaks your heart when I cry again, over him / I know that it breaks your heart when I cry again, instead of ghostin' him," over hazy chords that many believe sample Mac Miller's "2009".
Finally, Thank U, Next concludes with the record breaking hit, "Break Up With Your Girlfriend, I'm Bored." The track is a short, fun song, with a trap influenced beat about Grande simply wanting a love interest to break up with his girlfriend. She explained that it lacks a deeper meaning, she just included it because it made her laugh. She sings, "I know it ain't right, but I don't care / Break up with your girlfriend, yeah, yeah, 'cause I'm bored," which in turn irritated some of the listening girlfriends. You can't please everyone, I suppose.
About the Writer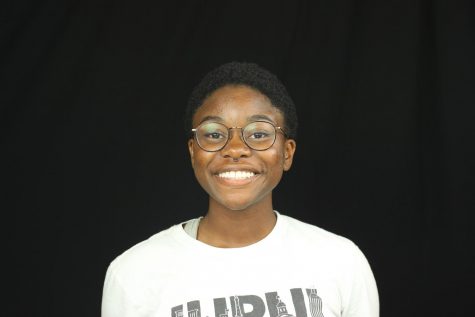 Camryn Daniels, Photographer
Hello! I am a senior, and a photographer in yearbook. I joined yearbook because when I took photojournalism, I really enjoyed taking sports photos. I'm...