"Golden Hour" Album Review
Album of the Year winner at the 61st GRAMMY Awards, the album Golden Hour brings a new perspective to country music, and Kacey Musgraves radiantly brings it life. Golden Hour is her first album since she released Pageant Material in 2015.
"Space Cowboy" is no doubt the most popular song on the album, and it definitely deserves that title. She sings in the chorus, "You can have your space, cowboy / I ain't gonna fence you in / Go on, ride away in your Silverado / I'll see you around again" and, "Sunsets fade, and love does too". The message she gives is that it's okay to move on but in such a positive way.
"Butterflies" is another one of the album's most popular songs. She wrote it a few weeks after meeting her husband, and she talks about this experience in the song. She upbeatedly sings, "Then out of the blue / I fell for you / Now you're liftin' me up / 'Stead of holdin' me down / Stealin' my heart / 'Stead of stealin' my crown / Untangled all the strings round my wings that were tied / …You give me butterflies". She endearingly explains the feelings that her husband creates for her.
"Rainbow" takes a different approach compared to "Space Cowboy" and "Butterflies". This track is the piece that was missing among all of the dreamy love songs on the album. "Rainbow" is on the slow piano route, and focuses heavily on Musgraves' voice. She conveys such a sweet message to her listeners who have a weight on their shoulders. She sings, "Yeah, there's always been a rainbow hangin' over your head / It'll all be alright". This is the last song she wrote before her grandmother passed away, so it holds a sentimental value on her album.
Overall, she deserves every bit of success that this record gave her. The songs on the album are sung with hope and wonder, and it feels sophisticated and peaceful. There's such simplicity and clarity to her voice, and it meshes so well with the charming sound delivered in the album. In my opinion, her music paints a mental picture of a perfect sunset over beautiful fields, and that's not something to miss.
About the Writer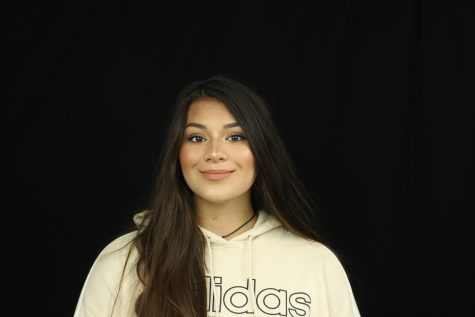 Luciana Mach, Web Editor
My name is Luci, and I joined yearbook because I'm passionate about journalism. By joining this class, I've learned that writing web stories and doing...