"Inner Monologue" Album Review
After her breakthrough single "Issues" kick-started her music career, Julia Michaels released an EP in January 2019. The confessional album, Inner Monologue, Pt. 1, features artists Selena Gomez and Niall Horan and offers a variety of upbeat and meaningful Pop songs. Michaels is one of the most sought-after songwriters, with clients including Justin Bieber, Britney Spears, and Gwen Stefani, diving into topics of life and love.
Michael's first song on the EP, "Anxiety (feat. Selena Gomez)," discusses her struggles with anxiety and mental health. Artist Selena Gomez is featured in this song, discussing her personal issues with anxiety as well, alongside a relaxed beat and harmonized soft voices.
"Into You" has a strong, fast beat that quickens throughout the duration of the song. On this relatable track, Michaels shares her conflicting feelings about a relationship.
"I don't wanna give you all this power. I'm so defenseless when it comes to you," Michaels sings.
"Happy" features a plucky tune, describing Michaels' desire to be content and less critical of herself in her life.
"And if it was my birthday, I'd make a wish to not be bitter 'cause I'm getting sick of this," Michaels sings.
"Deep" is the fourth track of Michaels' Inner Monologue. It explains Michaels resisting a new love story, still suffering from the repercussions of her last relationship. Despite this, her new love interest gets her "deep" into the new relationship. The music starts out soft, but gains a funky uptempo in the chorus, giving a techno feel to the melody.
On the simple song "Apple," Michaels daydreams about the perfect romance in her eyes. The music is chord-based and straightforward, urging listeners to sway to the beat of the charming ukulele.
Niall Horan features on "What a Time," their reminiscent ballad about better times in a relationship. They repeatedly exclaim the song's chorus – a short memory of a sweet night together – in complete awe. The melody is flowy and warm, and the violin shows the meaningful message of the track.
About the Writer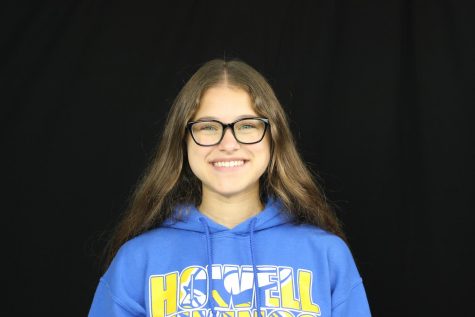 Ashley Foster, Writer
Hi, I'm a senior at Francis Howell High School! This is my first year on yearbook staff, and I'm interested in pursuing journalism as a possible career...