Ariana Grande and Pete Davidson Break Off Engagement
Pop singer Ariana Grande and Saturday Night Live (SNL) cast member Pete Davidson called off their engagement almost as quick as they rushed into it. The young couple fell into and out of love in the blink of an eye.
Grande and Davidson caught one another's interest around five months ago in May. They first met when SNL had Grande as a guest on the show.
Shortly after her appearance on the show, Grande ended her long-term relationship with rapper Mac Miller. Davidson also had called it quits with his at-the-time girlfriend Cazzie David.
The two were seen together within days of both their breakups at the billboard music awards; the couple was definitely not holding back on PDA, and seemed very lovey-dovey. Apparently, they didn't want to wait to take it to the next level.
After a month of the couple openly and casually dating, Davidson popped the big question and Grande didn't seem to hesitate. The couple was engaged, and things seemed to be going very smooth. Grande's instagram was full of pictures of her and her new fiancé, and neither were shy about expressing their love for one another publicly. From constant comments on each other's instagrams, to matching tattoos, and even a pet pig, Grande and Davison were crazy about each other.
However, somewhere down the line things turned sour. Many speculations have been made as to why the couple's relationship didn't last. Also many hints given by both Grande and Davidson have been seen and picked up on by the public.
During their relationship, they would constantly post on their social media's about each other. All of the sudden, neither Grande or Davidson had posted about their significant other in a long period of time. In fact, Davidson actually deleted his Instagram page. As for Grande, she decided to do the same. Her last post talked about needing time away from social media because of her emotional rollercoaster in the last year; the Manchester bombing and her ex-boyfriend Mac Miller's death were heart wrenching for Grande.
Pete Davidson, on an episode on SNL,  joked about a split between him and Grande. This could have been more than a joke. In another interview with Variety, Davidson joked about a future split between him and his fiancé yet again. Seeing the couple split only a short amount of time later makes Davidson's worries seem more realistic.
Following Davidson's mentions of a breakup, Grande pulled out of a charity performance the day before the news of the split broke the web. The manager apologized to the crowd awaiting her performance.
The next day, Oct. 16, Ariana Grande and Pete Davidson were officially over. Neither Grande or Davidson had made any real commotion about the break up, which left many people confused. Some speculate Grande was just having a hard time in such a fast moving relationship, given her recent ex-boyfriend Mac Miller had just passed. As far as Grande and Davidson have announced, they just weren't ready to take that step in their relationship yet.
Grande and Davidson might of figured out taking things slow was the right choice just a little too late. They both admit to still having hope of being together again one day, and still having love for each other. If two people can fall in love so fast, it might not be easy to leave that love behind. On the other hand, lust may have been mistaken for love by the young couple.
About the Writer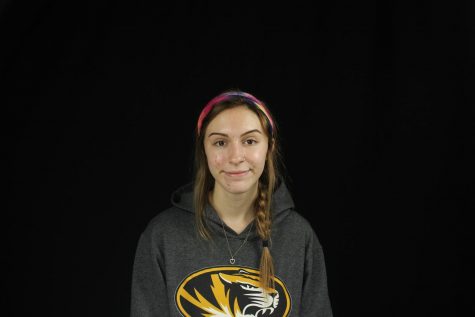 Hannah Sherfy, Photographer and Writer
This is my first year on the yearbook staff, and I am a photographer and writer. I really enjoy taking pictures and writing. I also really love music of...