BTS "Map of the Soul: Persona" Review
May 19, 2019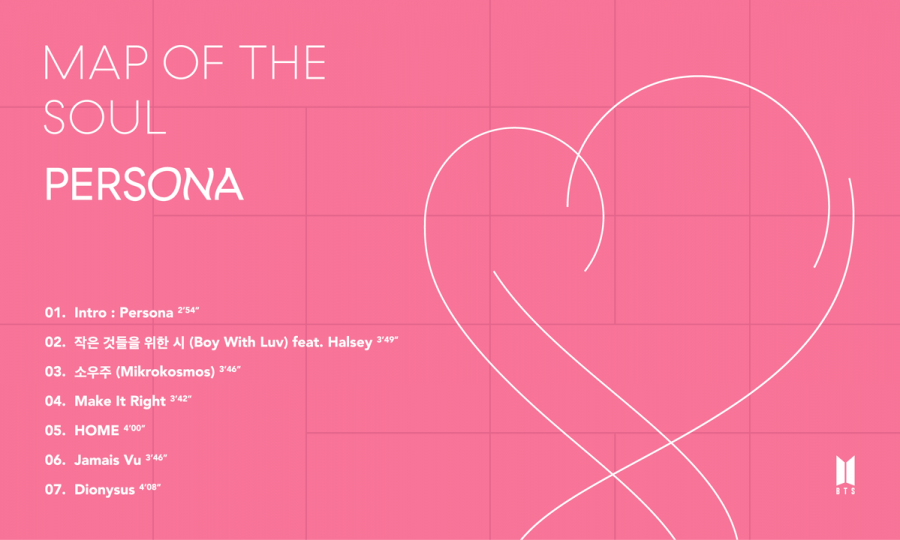 Worldwide kpop sensation, BTS, released their newest album, Map of the Soul: Persona, April 12.
After the extremely successful Love Yourself series, which included the albums Love Yourself: Her, Love Yourself: Tear, and Love Yourself: Answer, the group has started a new series, the Map of the Soul, with Persona.
Throughout the album, BTS decided to incorporate references to their previous albums. Starting off with an intro song that features only one member, "Intro: Persona", leader and rapper RM drew inspiration from "Boy in Luv", an older song from Skool Luv Affair, by making the song have a similar music style and a similar setting for the music video. Then the title song "Boy With Luv" is a direct reference to "Boy in Luv" through slightly changing the words. BTS has said that they wanted to include these tie backs because they wanted to show their fans how they've changed over the years. The music video also shows signs that have all the groups old albums during the bridge to "Boy with Luv".
Although the album is filled with references to their older style and music, BTS made sure to emphasize their changes in music style as well. Besides "Intro: Persona", which has a older hip-hop vibe to it, and "Dionysus", which has a more rock-influenced style, the rest of the songs feature their newer EDM/pop infusion. "Boy With Luv", "Mikrokosmos", and "Make It Right" keep an upbeat tone but with a slower tempo meanwhile "Home" picks up the tempo and "Jamais Vu" slows it down.
BTS also included a few collaborations with western artists on Map of the Soul: Persona. "Boy With Luv" featured Halsey in the chorus and in the music video. The two also performed together at the Billboard Music Awards, May 1. Ed Sheeran also helped with the lyrics and production of "Make It Right" but was not featured in the song. Collaborations with western artists is not new to BTS as they've had numerous collabs in the past such as Steve Aoki with "Mic Drop" and "The Truth Untold", the Chainsmokers on "Best of Me", and Nicki Minaj on "Idol".
As usual, BTS did not disappoint their fans with their newest album Map of the Soul: Persona.