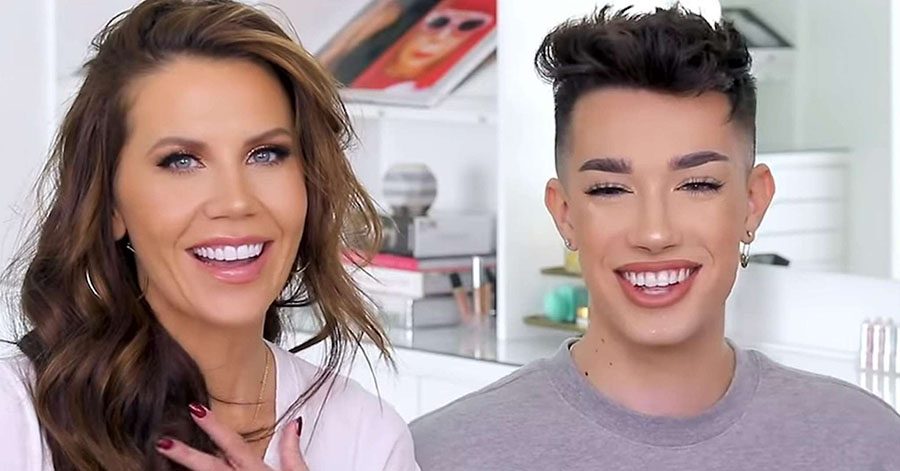 In under 24 hours over 600,000 loyal fans, and sisters, unsubscribed from James Charles after Tati Westbrook's video titled 'Bye Sister…' was released May 11.
Two beauty influences Tati Westbrook and James Charles were recently involved in drama that nobody saw coming.
Tati and James have multiple collaborations with one another on their own channels, and have been friends since the start of James makeup career.
The youtubers have always seemed very close, and have supported each other strongly. Tati herself even supported James Charles newly released palette in collaboration with morphe on many occasions on her channel.
Soon after Tati Westbrook released her own brand of vitamin supplements called Halo Beauty.
After her launch, her and James Charles discussed James giving her some promotion on for her new brand in his videos. However, James felt as if his youtube audience would not be an appropriate target for her vitamins, which Tati understood fully.
Eventually, the friends relationship and trust hit a wall when James posted a seemingly innocent brand deal for Sugar Bear Hair gummies on his instagram story.
Tati Westbrook felt betrayed by this brand deal because Sugar Bear Hair is one of her biggest vitamin competitors, and because James was one of her best friends.
She then took to her own instagram story to make a video about how she was feeling.
She couldn't stand the shadiness in the beauty community any longer, specifically from her close friend James Charles, and decided to sit down and make a video addressing issues with their friendship.
In Tati's video, she speaks on how she felt this was an act of betrayal in their friendship, and how James was only keeping himself in his best interest.
She also talks about how she's has done so much to boost his position in the beauty community and helped him throughout his career in return for nothing from him.
Because of how much Tati has done for James, and how close she thought they were, she was severely hurt that he didn't keep her feelings in mind when doing the brand deal.
She came to the conclusion James Charles wasn't who she thought he was, and decided to expose the unacceptable behaviors she has noticed throughout their friendship.
James Charles is known for his influence on the beauty community, fashion, makeup, and humor, including what people thought were jokes about hitting on straight men even though he identifies as a gay man.
James always came across as though he just couldn't get a man interested in him, and that he was sad and single, however that's just not the case.
Tati addresses these "jokes" and clarifies that not only does James hit on straight men, but harasses them.
"Oh my god, you tried to trick a straight man into thinking he's gay, yet again, and somehow, you're the victim. It's really disgusting to manipulate someone's sexuality, especially when they are still emerging into adulthood and don't quite have everything figured out. You are using your fame, your power, your money to play with people's emotions, you're threatening to ruin them, you're threatening to embarrass them, and you're doing that to have them behave sexually in your favour even if they're straight," Westbrook said.
This shocked everyone when watching youtube video, and really exposed James' true character.
People hoped on the train of canceled culture and completely dropped James Charles. More and more fans threw away their James Charles merchandise on social media, returned their James Charles pallets, and were quick to share their opinions on the scandal.
In 24 hours James lost over 600,000 subscribers, and the number continues to drop.
James posted a response video to Tati, and tried to clear things up. However, not many people bought the apology. Tati's video was around 45 minutes long, and James only posted an eight minute response video. He apologized for the things he was accused of, teary eyed and snuffling, but to his fans, this apology all seemed like a desperate act to save his career.
Bye Sister!