BTS Concert Review
May 16, 2019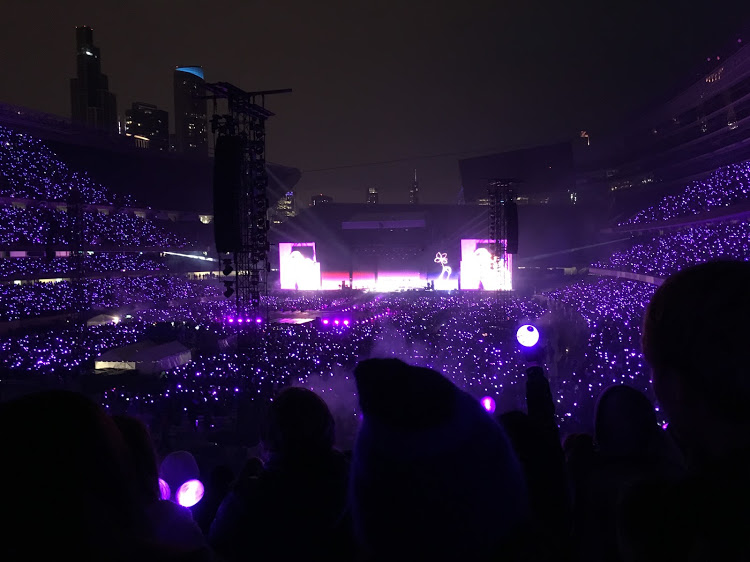 Through the rain and cold, thousands of fans gathered outside the Soldier Field Stadium in Chicago for the BTS concert, May 11. BTS fans (ARMYs) traveled from all over the midwest and even other countries to see the global kpop sensation.
As part of their 2019 world tour, BTS performed twice, May 11 and May 12, for their Chicago stop. Unfortunately for ARMYs, the weather remained wet and barely above freezing for both days. This did not stop ARMYs or the BTS members from enjoying themselves. RM, the leader of BTS even joked saying that the May 11 concert was the "first ever BTS winter concert". RM also told fans that he would always remember the concert whenever winter came to South Korea. Luckily for ARMYs attending that concert, the rain stopped an hour before the concert started, and RM thanked fans for "stopping the rain" as he predicted they would. During the May 12 concert though, the rain did not stop. Although most artist would balk facing the task of performing high intensity dances in the rain, but BTS actually embraced it and have deemed the May 12 concert as their "favorite concert" they've performed.
Starting off the May 11 concert, the group performed "Dionysus" followed by "Not Today" and "Wings". Throughout the concert, BTS showed VCRs were each member was featured and gave a hint at who's solo song was coming up. Along with all the solo songs ("Trivia: Love", "Epiphany", "Trivia" Seesaw", "Trivia: Just Dance", "Serendipity", "Singularity", and "Euphoria"), the group also performed various songs from their Love Yourself albums (Her, Tear, and Answer) and their most recent release and first of their Map of the Soul series, Persona. Included were "Best of Me", "Boy With Luv", "Idol",  "Fake Love", "The Truth Untold", "Outro: Tear", and "MIC Drop". Going back to some of their older albums, BTS also performed "Dope", "Baepsae", and "Fire". For the encore, "Anpanman", "So What", "Make It Right", and "Mikrokosmos" were performed. BTS made sure to make their concert unique by doing things like bringing out bouncy houses to jump around on, having Jungkook, one of the vocalists, zipline through the stadium during his "Euphoria" performance, and synchronizing the ARMY Bombs (the official lightstick of the group) which created intricate patterns of colored lights.
Even with the less than perfect weather, ARMYs and BTS alike seemed to have the times of their lives during the May 11 concert.