GFriend "Rainbow" Review
November 8, 2017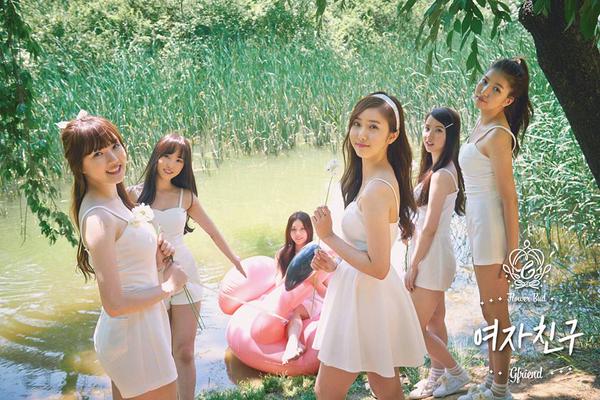 Kpop girl group GFriend released two music videos for "Glass Bead" and "Me Gustas Tu" on Nov. 2.
GFriend released the repackage of their fifth mini album, Parallel, in Sept. called Rainbow. The repackage is composed of 10 tracks including the editions of "Summer Rain", the instrumental version of "Summer Rain", and "Rainbow". The other seven originally on Parallel are "Intro (Belief)", "Love Whisper", "Ave Maria", "One-Half", "Life Is a Party", "Red Umbrella", and "Falling Asleep Again".
The fact that "Glass Bead" and "Me Gustas Tu" aren't apart of the most recent album release has fans curious. "Glass Bead" is off of GFriend's first mini album, Season of Glass, released back in 2015. "Me Gustas Tu" is from the group's second mini album, Flower Bud, which was also released in 2015.
"Glass Bead" was shot in a school setting. The music video switches from seeing the group perform the dance to the song in the school gym and seeing the girls in various school situations. First, they all participate in gym class which is followed by their lunch period. During a class scene, the group is caught passing notes and receive a detention where they are seen making the best of it and are having fun. The song is very upbeat and has a strong synthesizer sound in the mix.
"Me Gustas Tu" does a good job of mixing two contrasting sounds. The song features both rock and an orchestra into an upbeat song. The music video's strong points are two very pleasing, aesthetic shots and a nice element of carefree fun. The girls perform their group dance in the two shots. One being a field with them wearing a contrasting white and the other being a white room with the back wall made of windows where a forest is on display. The girls seem to be having a typical summer day the other half of the video as they play with a water hose, get ice cream, have a sleepover, tell scary stories, have pillow fights, etc.
Even though the two new music videos weren't from the most recent album, it was nice for fans to finally see songs from the group's beginnings get music videos.