JJ Project "Verse 2" Review
November 8, 2017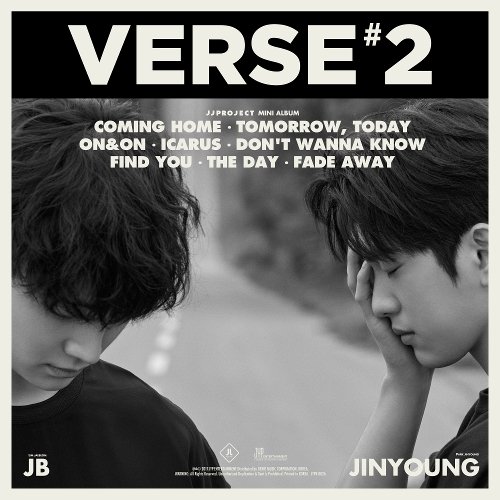 Kpop duo, JJ Project released a new album, Verse 2, after a five year hiatus, surprising many fans.
The duo is composed of GOT7 members, JB and Jinyoung. Formed under JYP Entertainment, the two released their first album, Bounce, in 2012. After both of them joined GOT7, it looked like JJ Project ceased to be a thing since they haven't released anything since then. Many fans were shocked and excited when JYP announced JJ Project's comeback.
Verse 2 has eight tracks: "Coming Home", "Tomorrow, Today", "On & On", "Icarus", "Don't Wanna Know", "Find You", "Fade Away", and "The Day". "Tomorrow, Today" has a music video that is currently at 7.6 million views. "Fade Away" is a solo for JB and "The Day" is Jinyoung's solo.
The album incorporates a throwback feel with modern music. JJ Project decided to use the distinct sound of 80's synth pop and mixed it with EDM styles, creating an interesting sound. The album opens up with "Coming Home" which sets up the unique sound for the rest of the songs. The song has a slower paced beat that helps to blend JB and Jinyoung's voices well. The song is sad yet optimistic as it goes through the feelings of losing hope towards seeing someone again but still holding on because it's worth it in the end.
The music video for "Tomorrow, Today" just cements the the overall 80's style for the comeback. Everything was very simple and retro from their clothes to the props. Even the production level was lowered to make it seem more authentic. There was no fancy camera shots, angles, or transitions that usually accompany kpop music videos. Also, the post-production team lowered the resolution to make the video come out more grainy, just how it was three decades ago.
"On & On" follows more of the EDM style but features a prominent guitar melody. There's a quicker beat than the other songs on the album and it includes more harmonizing portions of JB and Jinyoung's voices. The song lyrics focus on being oppressed by fame and others opinions but to, instead, express yourself however you want.
The song "Icarus" provides the 80's feel with background noises that sound very similar to arcade game sound effects. Meanwhile, JB and Jinyoung's voices have a bittersweet tone as they sing about how they can never give up even if their "bodies break down" and how they feel need to prove themselves.
Both "Don't Wanna Know" and "Find You" center around relationships. "Don't Wanna Know" is about the feeling of numbness and being in denial over someone leaving you. The beat and EDM style fade more into the background and let JB and Jinyoung's voices carry the song. "Find You" talks about regretting a break up and trying to mend the relationship because "everything is meaningless" without them. While keeping the same style, "Find You" picks up the pace after the slow beat of "Icarus".
JB's solo "Fade Away" showcases a lazy beat, abrupt ending, and JB's voice with a careless tone. The lyrics mention the realization that you've been changing yourself for a relationship and are being blamed for everything. The careless tone helps push the message that JB's done with that feeling and relationship. "The Day", Jinyoung's solo song, has a relaxed, blues mood to it. Jinyoung sings about how he wishes things were better and how he's forgetting what it was like when he believed everything was good.